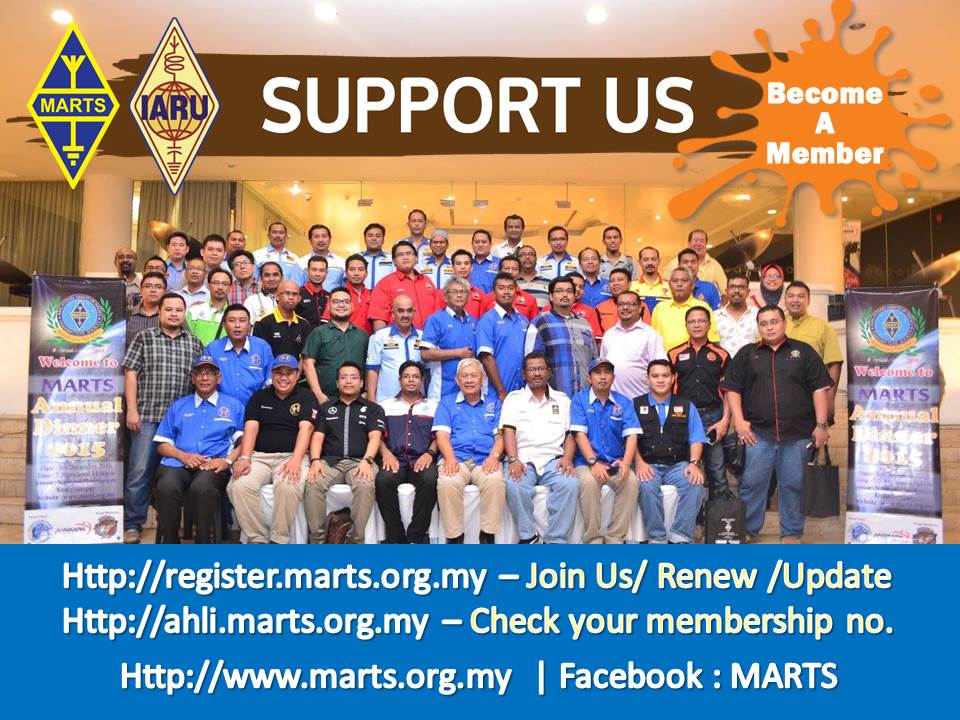 The Malaysian Amateur Radio Transmitters' Society (MARTS) is a non-profit organization that caters to Malaysian amateur radio enthusiasts. MARTS was founded in 1952 and has subsequently become a National Society.
The Malaysian Amateur Radio Transmitters Society (MARTS) is an organization dedicated to promoting and supporting the amateur radio community in Malaysia. MARTS provides a platform for amateur radio operators to come together, share knowledge, and engage in activities related to amateur radio. They organize events, contests, training programs, and provide resources and assistance to amateur radio enthusiasts across the country. MARTS also represents Malaysian amateur radio operators at the national and international levels, advocating for their interests and contributing to the development of amateur radio in Malaysia.
Additionally, one of the benefits of joining the Malaysian Amateur Radio Transmitters Society (MARTS) is access to the largest national repeater linking system in Malaysia. This extensive network of repeaters allows for enhanced communication coverage and reach across the country. By utilizing this network, MARTS members can connect with fellow operators in different regions, fostering a stronger sense of community and providing opportunities for collaboration and information exchange. The national repeater linking system offered by MARTS further enhances the amateur radio experience for its members, enabling them to communicate effectively over vast distances within Malaysia.
The main goal of the organization is to increase amateur radio's popularity and support in Malaysia. A QSL bureau is provided by the organization as a benefit to members who frequently communicate with amateur radio operators abroad.
MARTS is the ONLY member society representing Malaysia in the International Amateur Radio Union Region 3. Refer http://iaru-r3.org.
Joining the Malaysian Amateur Radio Transmitters Society (MARTS) can offer several benefits to individuals interested in amateur radio. Here are some of the advantages of becoming a member:
Access to a Community of Amateur Radio Operators: MARTS provides a platform for amateur radio enthusiasts to connect and engage with like-minded individuals. By joining, you gain access to a community of experienced operators who can offer guidance, support, and mentorship.
Learning and Skill Development: MARTS organizes training programs, workshops, and seminars on various aspects of amateur radio. As a member, you can participate in these activities to enhance your knowledge and skills in operating radio equipment, radio propagation, emergency communications, and more.
Licensing Support: MARTS assists individuals in obtaining their amateur radio licenses. They provide guidance, resources, and training to help you navigate the licensing process and prepare for the necessary examinations.
Participation in Contests and Events: MARTS organizes contests, field days, and other radio-related events where members can showcase their skills and compete with other operators. These events offer opportunities to improve your operating techniques, test equipment, and connect with fellow enthusiasts.
International Recognition and Representation: MARTS represents Malaysian amateur radio operators nationally and internationally. As a member, you become part of an organization that is recognized by international bodies like the International Amateur Radio Union (IARU), which can open doors to collaboration, partnerships, and participation in global amateur radio activities.
Access to Resources and Publications: MARTS provides members with access to resources, publications, and newsletters that keep them updated on the latest developments in amateur radio, technology advancements, regulatory changes, and more.
Emergency Communications Support: Amateur radio plays a crucial role in emergency communications during disasters. MARTS members can participate in emergency communication drills and be part of a network that provides vital communication services during emergencies or natural disasters.
Representation and Advocacy: MARTS represents the interests of Malaysian amateur radio operators to regulatory bodies, government agencies, and international organizations. As a member, you have a voice in shaping policies and regulations that affect the amateur radio community.
These are just a few benefits of joining MARTS. By becoming a member, you can gain knowledge, skills, connections, and actively contribute to the amateur radio community in Malaysia.
OUR VISION
WE AIM TO BE ONE OF THE MOST PROGRESSIVE, ENTHUSIASTIC AND FRIENDLY AMATEUR RADIO SOCIETY IN MALAYSIA, SUPPORTING EVERY HAM RADIO ALL THE TIME
OUR MISSION
Reaching out to member
 To increase more ham radio operators.

 To create more awareness of amateur radio.
 To increase On-The-Air activity.
 To provide backup communications when needed during time of emergency and disaster.
 To maintain adequate number of volunteers at every state to provide radio communication service when needed, to train each and every one of them periodically.
 To streamline and strengthen activities with affiliated members.
Technical
 To increase technical expertise and maintain a pool of technical information online.
 To enhance amateur radio state-of-arts.
 To foster ham radio innovation.
 To provide a linking repeater nationwide.
Spectrum Protection and Radio Frequency Interference
 To engage MARTS with works by MCMC, IARU or ITU on spectrum study, planning of radio which may affect band allocated to amateur radio services.
Created (2015)