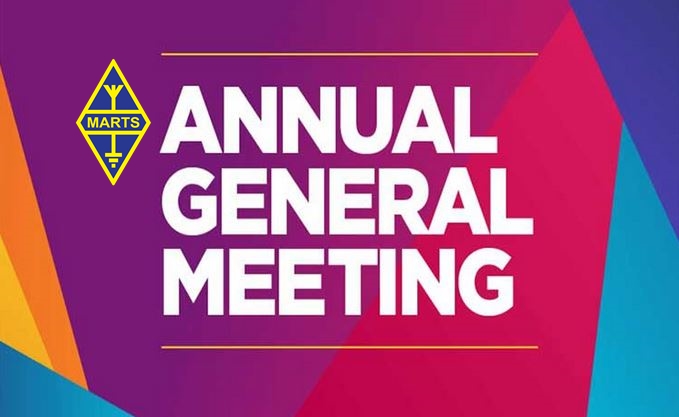 Notice is hereby given that an Annual General Meeting of the Malaysian Amateur Radio Transmitters' Society will be held as follows :
Date      : 18th December 2021 (Saturday)
Time      : 9:30 a.m until 5:00 p.m (Registration begins at 09:00 a.m)
Venue  :
Akademi Latihan Pertahanan Awam (ALPHA)
Lot 14617, Persiaran Institusi Bangi, Kawasan Institusi Bangi, 43000 Kajang, Selangor

GPS Coordinate :
https://goo.gl/maps/ssv7ThyExRe62KdC6
2.9688019351260344, 101.7397970446815

AGENDA
Welcome speech by the President.
To receive the minutes of the AGM held on 5th December 2020.
To receive the Secretary's report of year 2020.
To receive the Treasurer's report and the audited accounts of year 2020.
To elect the new Committee and to appoint auditors for year 2021-2023.
Any other matters to be discussed or any resolution to amend the constitution.
PLEASE CONFIRM YOUR ATTENDANCE – HTTPS://BIT.LY/MARTSAGM2021
AND ANY RESOLUTION TO AMEND THE CONSTITUTION SHALL BE SUBMITTED IN WRITING BEFORE DECEMBER 15, 2021 BY EMAIL TO SECRETARY@MARTS.ORG.MY
NOMINATION FOR OFFICE BEARERS

To make sure that the Member Societies are able to make knowledgeable and informed assessment before exercising their vote, nomination for the office bearers shall be submitted as pdf files to the Secretary of MARTS ( secretary@marts.org.my) by 1700 hours MST on 16 December 2021 (Thursday). All candidates nominated for the office bearers shall submit a Curriculum Vitae (CV) containing the candidate's name, call sign and a statement for not more than 200 words containing information relevant to the position. Nominations without an attached CV will not be accepted as the submission is deemed as incomplete.
The format of nomination for office bearers can be requested to secretary@marts.org.my